NEC's Unique SaaS Solution
NEC's SaaS solution is a single platform from which telecom operators can deliver a wide array of applications to their customers. Through resource sharing, or multi-tenancy, features this solution strengthens the operator's ability to deliver competitive priced service offerings to their end users.

The SaaS solution currently popular is the Boutique type of SaaS. These are provided by application vendors, but because these vendor platforms aim to provide their own applications, telecom operators need to provide each application from different platforms. The result is business operations become complicated and inefficient.

NEC's SaaS solution, Aggregation, is a type of SaaS that enables telecom operators to accelerate business transformations. NEC SaaS solution incorporates all of the features needed to launch a SaaS business. It's a single sign-on interface with authentication, user and ID management, as well as business and billing application management. The scalability and flexibility of NEC's SaaS solution enables telecom operators the ability to launch new services quickly while controlling their initial investment.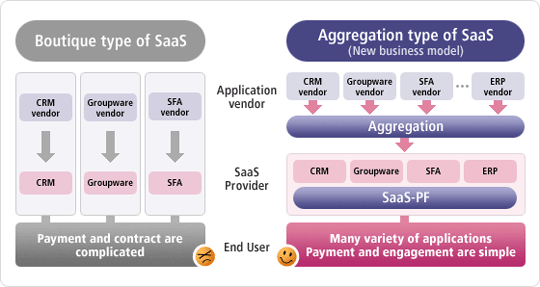 NEC has already deployed SaaS globally. In addition, in Australia we provide actual services to enterprise customers using our own SaaS platform. The SaaS service in Australia, Applications Net, is a service provided by NEC Australia, and it's one of the most advanced and comprehensive SaaS services in the world. Applications Net realizes an integrated one-stop-shop SaaS application store, that provides a range of software and telephony services via a single portal to meet all the IT needs of enterprise customers.