TMS (Traffic Management Solution)
-improves customer experience and maximizes ROI of communications service providers (CSPs)-
TMS provides five solutions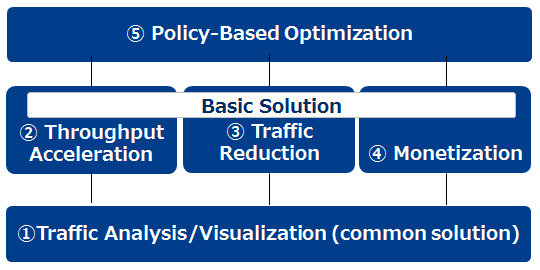 [Challenge for CSPs]
To understand network performance and QoE of the network
To understand traffic volume of the network
To understand where and at what times QoE in the service area is bad
The amount of traffic passing through TMS is aggregated and visualized to allow CSPs to see the current status of traffic on their networks.
The visualized information can be used to identify areas where network operations could be improved and help CSPs create their plans for services and network equipments.
Benefit
By quantifying QoE, network performance can be captured from QoE view point.
How QoE in the service provision area changes over time can be understood by mapping the QoE status.
Network performance can be captured from traffic view point by analyzing performance related to traffic such as round trip time and traffic volume.
By analyzing network performance from both QoE and traffic view point, solution to maximize total network performance can be identified.

[Challenge for CSPs]
To increase mobile internet usage.
To improve overall QoE without investing in base station capacity as many end users are complaining about service quality such as slow download and stall during video playback
QoE is improved by "TCP Optimization".
TCP optimization: By terminating and separating TCP sessions of wireless network side and the internet side, TMS prevents degradation of communication quality on wireless network from impacting the quality of communication with the internet to stabilize end-to -end network. Such degradation on wireless network is caused by various reasons such as packets congestion and throughput slowdown during busy hours and/or congested areas.
By applying the optimal communication parameters to each session in accordance with network characteristics and conditions, QoE local degradation caused by packet loss or throughput drop in congested areas or during congested time periods can be improved.
Benefit
Contents download time can be reduced by half, and the traffic speed experienced by users can be twice as much fast.

Traffic Reduction Solution
[Challenge for CSPs]
To handle a rapid increase in users that might cause the bandwidth leased from the MNO to be exceeded (MVNO)
To reduce overall traffic volume so that CAPEX for network infrastructure can be reduced
TMS reduces traffic volume by video/image/text contents compression and maximize ROI by reducing CAPEX for additional network infrastructure to accommodate increasing traffic.
Benefit
More than 30% reduction of traffic can be achieved
By using the predictive pacing technology developed by NEC Central Laboratories that can vary the transmission volume according to the traffic conditions on the network, QoE of video playback can be substantially improved at congestion hot spots.
An original cache management* method enables an effective hit rate with minimal cache size.
Number of concurrent connection of end users at congested area can be increased to over 200% without adding base station capacity.
*Multi-dimensional histogram ranking management method
---
SSL Traffic Flow Control Solution
[Challenge for CSPs]
To improve QoE degraded over time while overall traffic volume has not been changed during the period
Use of SSL encryption for web access and video contents has been increasing recently. This causes degradation of QoE improvement effect as existing traffic optimization systems cannot optimize encrypted traffic. Encryption prevents traffic optimization from acquiring necessary information for optimization.
TMS estimates contents of SSL traffic and provides traffic flow control on keeping QoE by applying appropriate optimization technology such as video pacing.
Benefit
Encrypted traffic can be optimized by applying traffic flow control.

URL filtering
[Challenge for CSPs]
This function fits to operators who suffer from problems such as follows:

Operators who want to improve end users' satisfaction by providing safe and secured services
Operators who want to increase the number of users by providing enriched service menu
---
Mobile Advertisement
[Challenge for CSPs]
This function fits to operators who suffer from problems such as follows:

Operators who want to boost up revenue by expanding their business and entering into new businesses such as advertisement
Operators who want to increase the number of users by improving end users' satisfaction and providing right information that meets the needs of end users on a right timing
To expand business by attracting advertising for end-users.
To improve customer satisfaction and increase user numbers by providing end-users with information that matches their preferences.
Benefit
More secured and enriched service provisioning is enabled by collaborating with external system
Building up new Business Model is enabled thanks to the introduction of new service

Dynamic Bandwidth Optimization Solution (Congestion Aware Optimization Solution)
[Challenge for CSPs]
This function fits to operators who suffer from problems such as follows:
Operators who is content with the level of service quality during off peak hours but want to maintain the service quality level even at busy locations and hours
The return from investment on traffic optimization solution can be maximized thanks to DBO function that enables to detect the congested users and to apply optimization only those congested users who are suffering from degraded QoE due to factors such as bandwidth shortage and packet queuing.
Benefit
Detecting congested users and applying optimization (such as video pacing, text/image compression) to only those congested users can be achieve
* TMS : Traffic Management Solution
* The above figures are measured values, not the values for guaranteeing.
* Contents described here may be changed without notice for improvement.
* Names of companies and products described here are trademarks or registered trademarks of the companies.