TMS (Traffic Management Solution)
-improves customer experience and maximizes ROI of communications service providers (CSPs)-
Functional Features
TCP Optimization
TMS is set between wireless network (users' terminal side) and wireline internet (Origin Server side). By terminating and splitting TCP session at TMS, it helps preventing the degradation of quality on wireless network to impact the quality of stable internet to be also degraded. Network congestions can be avoided by the setting most suitable TCP parameters and options for both wireless network and wireline network separately and respectively. Also, thanks to NEC's rich know-how of TCP parameters tuning, TMS controls the transmission data size and intervals to improve the traffic throughput. HTTPS throughput is also improved by applying TCP tuning to HTTPS traffic.


Video Pacing
Video Pacing function has a network aware intelligence to predict available bandwidth (TCP throughput) for the next several seconds by monitoring the traffic. It also grasps the remaining amount of playing buffer transferred to the end users' terminals to control the delivery speed dynamically. This throughput prediction and delivery speed control function realizes the highly stable video contents delivery while reducing the excess data traffic.


Video Transrating /Transcoding
Video Transrating/Transcoding function realizes significant traffic reduction with following features; encoder supporting various video formats and high compression of video contents with a lossless quality.
*In case of combining video compression, image compression and text compression.


ABR (Adaptive Bitrate) Traffic Optimization
TMS optimizes the adaptive bitrate traffic such as HLS (HTTP Live Streaming) in real time for reducing traffic and improving traffic throughput.
*Adaptive bitrate is a technology to detect the traffic bandwidth in real time and to adjust the quality (bitrate) of video contents accordingly.


Image Compression
Image data is compressed and delivered to the end user terminals in real time without degrading image quality.


Text Compression
Text data is compressed in real time and delivered to the end user terminals.


Video Cache /Web Cache
Video cache and web cache are supported to reduce the huge traffic volume of video content and large number of requests for frequently accessed web data (text and image).
Caching function improves end user's QoE with quicker response, and also can reduce the internet bandwidth.


Congestion Detection 
Congestion detection is the function to detect congestion level of session of each user. By applying appropriate optimization functions to the sessions accordingly traffic affected by congestion can be optimized selectively.


Media Optimization Policy Control
TMS can optimize the data traffic based on the combination of different types of policies and parameters. TMS retrieves policies based on user contracts by integrating with external systems such as AAA and PCRF, and also has TMS own policies such as period of time, network congestion and destination URLs.


Traffic Visualization
The solution visualizes optimization effects, detail conditions of network access and QoE by analyzing the traffic logs collected at TMS.


SSL Pacing
Contents of encrypted traffic are estimated with high accuracy by using NEC's proprietary technology, and optimization technology such as video pacing on each destination domain is applied to SSL traffic accordingly.


Dynamic TCP Optimization
TMS automatically controls the volume of packets transmitted over the network in accordance with traffic conditions. This makes it possible to optimize the packet flow rate at a level that will not impair the user's QoE during times of traffic congestion, thereby mitigating packet loss and packet retransmission, which can lead to throughput degradation.


Component Configuration
TMS consists of four components, "TMS Media Optimizer" as a key component which is a traffic optimization engine. Mobile carriers can select and implement necessary components and their features based on their specific needs.
TMS Media Optimizer
Optimizes the traffic by combinations of features such as Video Pacing, Video/Image/Text Compression and TCP Optimization. In addition, it monitors the network quality of the traffic in real time and applies Dynamic Bandwidth Optimization.

* Please see below for the details :
"Video Pacing", "Video/Image/Text Compression",
"TCP Optimization", "Dynamic Bandwidth Optimization"
TMS Visualizer
Collects the logs of the traffic which goes through TMS Media Optimizer, and then visualizes the analyzed data.
* Please see here for an example of the result for traffic analysis screen
TMS Service Controller
Creates control policies based on traffic conditions by integration with other systems, and provides them to TMS Media Optimizer to be used for optimization.
Load Balancer
Load balances the incoming traffic to TMS Media Optimizer adequately.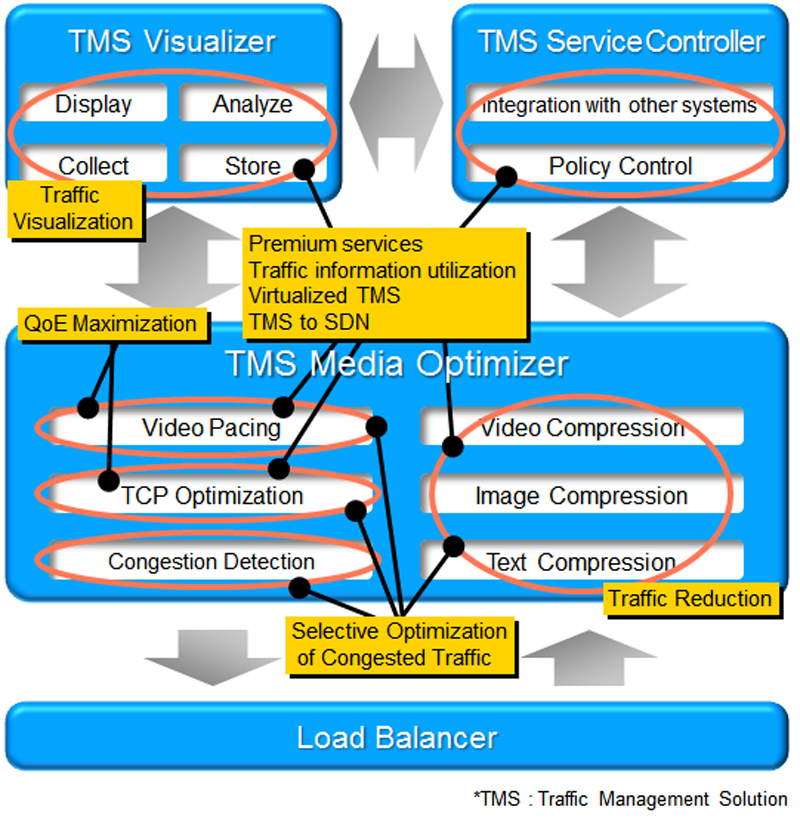 Larger viewComponent configuration
Deployment into Network
The optimization component of Traffic management solution, "TMS Media Optimizer", the component for optimization and "TMS Visualizer", the component for visualization are located in the core network of CSPs. All the flows starting from pulling the commercial traffic into TMS via "Load Balancer" and visualizing them as result can be completed by TMS, so that it can be easily deployed without impacting the existing systems under operation.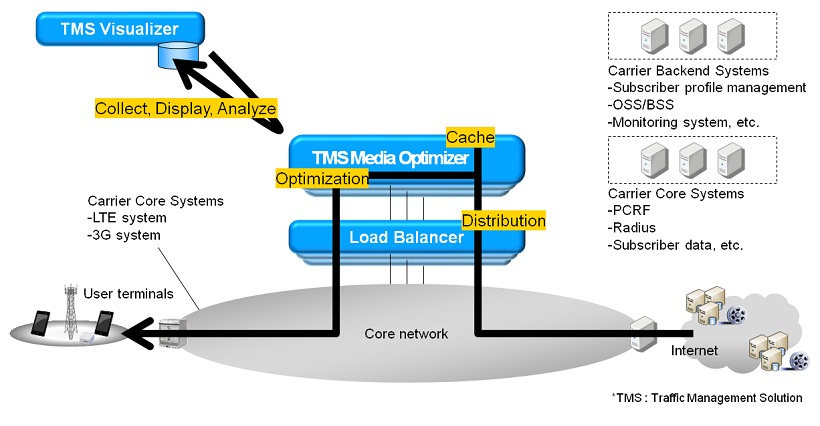 Larger viewDeployment of Traffic Management Solution
In addition, by deploying "TMS Service Controller", TMS can integrate with CSPs' core network systems as well as backend systems, to realize highly value-added solution by effectively utilizing existing equipment assets.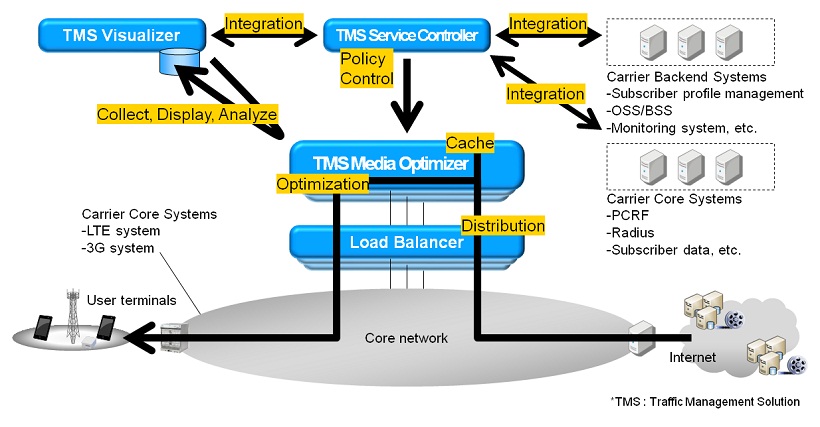 Larger viewIntegration of Traffic Management Solution and Carrier's other systems
* TMS : Traffic Management Solution
* The above figures are measured values, not the values for guaranteeing.
* Contents described here may be changed without notice for improvement.
* Names of companies and products described here are trademarks or registered trademarks of the companies.