By Technologies
Face Recognition
The human face plays an important role in our social interaction, conveying people's identity. Using the human face as a key to security, biometric face recognition technology has received significant attention in the past several years due to its potential for a wide variety of applications in both law enforcement and non-law enforcement.

As compared with other biometrics systems using fingerprint/palmprint and iris, face recognition has distinct advantages because of its non-contact process. Face images can be captured from a distance without touching the person being identified, and the identification does not require interacting with the person. In addition, face recognition serves the crime deterrent purpose because face images that have been recorded and archived can later help identify a person.

Over the past decades, NEC has concentrated on developing face recognition methods within the framework of biometric security systems and is now applying face recognition technology to other markets. NEC's Face Recognition technology achieved the highest performance evaluation in the Face In Video Evaluation (FIVE) 2017 performed by the U.S. National Institute of Standards and Tecnology (NIST). Moreover, NEC's technology took first place for the fourth consecutive time following the Face Recognition Vendor Test (FRVT) 2013, the 2009 Multiple Biometric Grand Challenge (MBGC 2009) and 2010-2011 Multiple Biometrics Evaluation (MBE 2010-2011).

NEC's face recognition technology can be implemented as a functionally independent application, or seamlessly integrated into new or existing biometric security solutions by system integrators and solution providers.
Features
Features
Fast & Accurate Face Recognition
GLVQ based multiple-matching face detection
Combination of eye-zone extraction and facial recognition
Recognition based on neural network technology
Short processing time, high recognition rate
Recognition regardless of vantage point and facial changes (glasses, beard, and expression)
Reliable matching
Optimal results through Adaptive Regional Blend Matching (ARBM) technology
Extraction of similar facial areas
Identification and authentication based on individual facial features
Easy adaptation to existing IT systems
Flexible integration into many types of video monitoring systems
1:n matching
Simple connection to NEC AFIS
Supporting diverse graphic and video formats as well as live cameras
Diverse Application Areas
NEC's biometrics face recognition process has a highly diverse range of applications, extending from crime-fighting, border control, to access control for sensitive areas.
Technical Highlights
Generalized Matching Face Detection Method (GMFD)
NEC's face recognition technology utilizes the GMFD method that provides high speed and high accuracy for facial detection and facial features extraction. The main logic for facial recognition within GMFD is a modified Generalized Learning Vector Quantization (GLVQ) algorithm, which searches and selects face area candidates after the generation of potential eye pairs. GLVQ is based on a neural network and is not easily fooled by attempts to conceal identity via the usage of caps, hats, sunglasses, etc.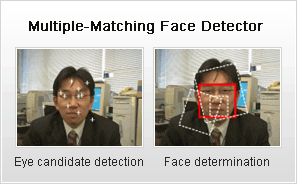 Perturbation Space Method (PSM)
NEC has developed the PSM algorithm that converts two-dimensional images (e.g., photographs) into three-dimensions (such a process is called "Morphing"). The three-dimensional representations of the head are then rotated in both the left-to-right and up-and-down directions. Further processing applies differing illumination across the face, which greatly enhanced the chances of a query "faceprint" for matching against its true mate from the database.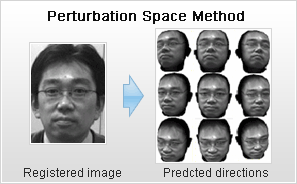 Adaptive Regional Blend Matching (ARBM) Method
Thanks to the PSM algorithm, the general range of facial poses and illumination has ceased to present major problems. However, the range of variation of different facial parts is still a challenge.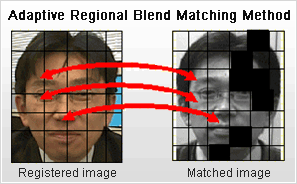 To reduce the impact of adverse local changes (e.g., varying facial expression caused by smiling and blinking eyes, and intentional changes caused by the wearing of caps, hats and glasses), NEC's face recognition technology utilizes the ABRM algorithm, which reduces the impact of such local changes during the matching process. The minimization of the local changes guarantees the overall face recognition accuracy.