Critical Infrastructure Management
Harbor Monitoring Network System
Security of coast important facilities through underwater sensor network
Harbor monitoring system provides the threat information which are underwater / above water to surveillance person using underwater sensor network.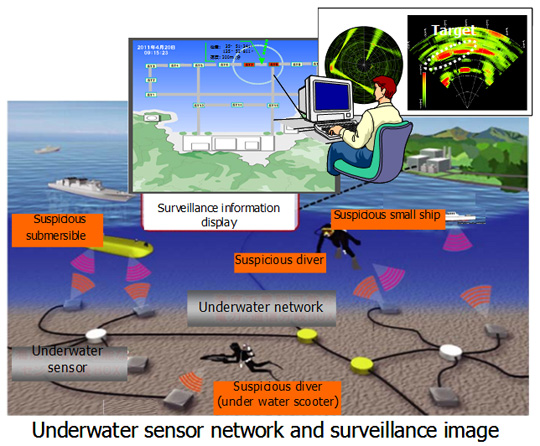 High level surveillance ability

Integrated targeted surveillance that acquires each sensor information of underwater /above water. (SONAR, Radar, camera, AIS etc.)

Target surveillance support by automatic detection/tracking/various category algorithm.

Real time data acquire without constrain of day and night and weather.
High level expandability and maintenance-ability
By the use of network structure, open spec, standardization, a large variety of sensors are possible to connect flexibility.

Easy sensor addition and change possible in the bottom of sea.
Established quality
Based on the long operation actual achievements, gathered the ocean sound technology / SONAR technology / undersea cable technology together.

Deploy total solution till the setting according to the operational environment or performance optimization.
Wide range of system lineup
Provides the value and combination of different kinds of system according to the operation variation.

This caters the needs of the huge variety of customers from the intrusion surveillance of terrorist to the important facilities such as nuclear till the intrusion surveillance of poachers to the fishing bank.

It can also be used as berthing vessels periphery surveillance system.

It can also be used as environment monitoring system such as radiation, tsunami.

It is possible to implement the research and investigation of operation environment and introduction.
Harbor Monitoring Network System Movie