Emergency & Disaster management
Observation
Advanced Earth Observation Satellite
NEC's NEXTAR Series Earth Observation Satellite makes it possible to obtain wide-range and high-resolution visual information of disaster or disaster-prone areas from space.
NEXTAR system can realize various applications.
High-resolution Radar Observation


Observation of the Earth's surface under any weather conditions & at night

X-band
swath
< 1m(Spotlight)
swath
10km(Spotlight)
High-resolution Optical Observation


High Resolution Observation of the Earth's surface

Pan
Multi
bands
1
6
resolution
< 0.5m (Pan)
swath
10km (Pan)
Advanced Earth Observation Mission


Hyperspectral Sensor for Advanced Earth Observation

Vis-NIR
bands
185
resolution
< 15m
swath
15km
Land/River/Rainfall Observation System
NEC's Land/River/Rainfall Observation System collects necessary information and data by means of various sensors placed at disaster-prone areas.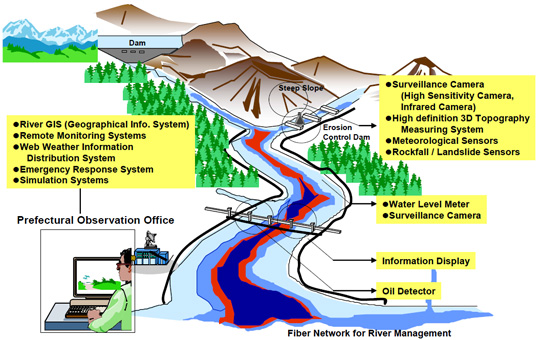 Ocean Bottom Observation System
NEC's Ocean Bottom Observation System obtains earthquake and tsunami data by means of seismometers and tsunami sensors placed at the ocean bottom, and send the real-time data to an on-shore station through the submarine cable. The transmitted data then are further distributed to government agencies and research institutions via terrestrial links, thus enabling early warning to the public with higher accuracy.